No Tomorrow
NO TOMORROW investigates the murder of Risa Bejarano, the principal subject of our recent film, AGING OUT, about teenagers leaving foster care. NO TOMORROW explores how our film about Risa's last year of life unexpectedly became the centerpiece of a chilling death penalty trial. The film covers the trial's most dramatic moments in Judge Lance Ito's courtroom, including a heated debate over the prosecutor's use of AGING OUT to persuade the jury to impose the death penalty. While the trial focuses on whether Risa's murderer deserves to die, several leading death penalty experts address the broader question of whether the state deserves to kill him. Ultimately, the unique film-within-a-film perspective of NO TOMORROW takes viewers inside a suspenseful death penalty trial and challenges their beliefs about capital punishment.

trailer • press room • buy the dvd for home use only • buy the video for educational, institutional
buy the video - foreign use • Viewer Guide

Follow the Official No Tomorrow Blog.

For Breaking News and Reviews of No Tomorrow.



Watch Now

Produced and Directed by Roger Weisberg & Vanessa Roth




Follow Money and Medicine on Facebook!




Follow Money and Medicine on Twitter!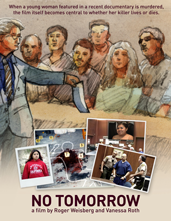 Public Policy Productions, Inc.
P.O. Box 650
Palisades, NY 10964
(845) 398-2119
Roger Weisberg, President
email Public Policy Productions